Swedish human centrifuges delivered to Russia by ASEA
Sven Grahn
---
Summary of centrifuges built by ASEA


ASEA – Allmänna Svenska Elektriska Aktiebolaget (General Swedish Electric Company) was founded in 1883. In 1988 it merged with Swiss Brown, Boveri & Cie to form Asea Brown Boveri - ABB. The company made heavy electric machinery for industries like mining and plate mills. All the human centrufuges made by ASEA were designed and manufactured in Västerås, 100 km WNW of Stockholm, Sweden. Current (2015) ABB staff in Västerås is 4100. Over a thirty-year period ASEA designed, built and delivered four human centrifuges, three of which to Moscow, Russia. The table below summarizes these centrifuge systems. The objective here is to give a general overview of these centrifuges. A more detailed account will follow, either in a space history publication or here at this web site.
| | | |
| --- | --- | --- |
| # | Year | Details |
| 1 | 1951 | RFP from Karolinska Institutet. 7.25 m. Operational 1954. Still in use. |
| 2 | 1960 | Contract for copy of #1. Installed at IBMP in Moscow. May still be in use. |
| 3 | 1965 | Contract for a centrifuge at Gromov Flight Test Center. 8 m arm. Still in use. |
| 4 | 1971 | Contract for TsF-18 (18 m arm) installed at TsPK. Still in use. |
Nr 1 Centrifuge, Karolinska Institutet
Karolinska Institutet is a medical university in Solna within the Stockholm urban area, Sweden, and one of the largest and most prestigious medical universities in the world. It was founded in 1810. The #1 centrifuge is located at the main campus in Solna. The institute performed research into physiological aspects of flying high-performance military jet planes as part of Sweden's post-WWII build-up of an extensive air force. The centrifuge is still in use.
The picture below shows a conceptual sketch of the completed centrifuge. This image and all other shown here (except otherwise noted) have been obtained from the ASEA files at the Västmanland county museum.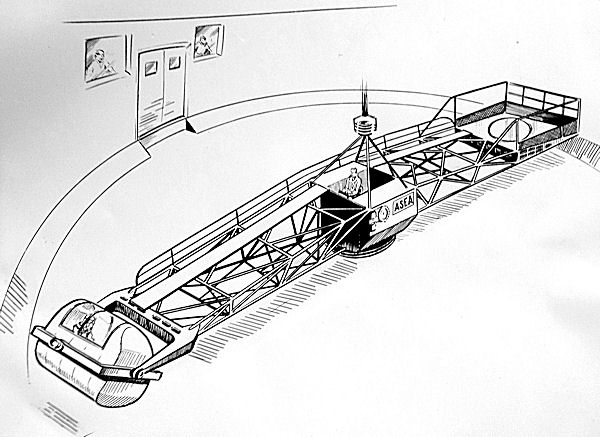 Below the #1 centrifuge can be seen under construction at the factory in Västerås.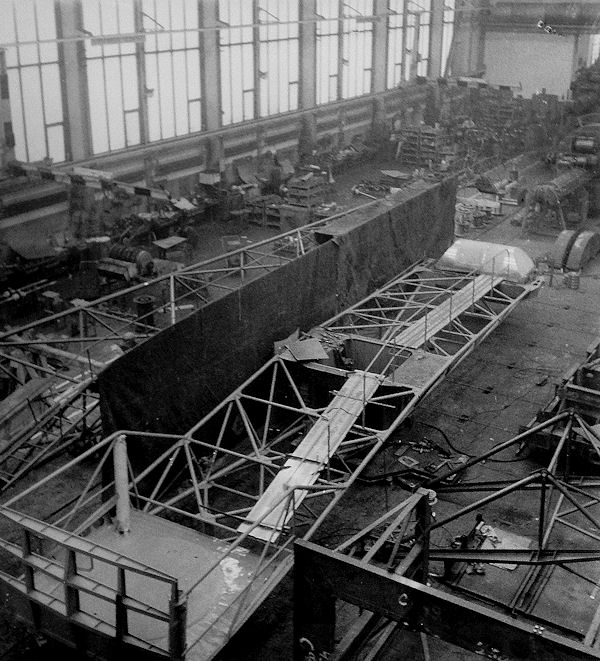 The picture below shows the cabin for the test subject. The picture appears to have been taken at the Karolinska Institutet.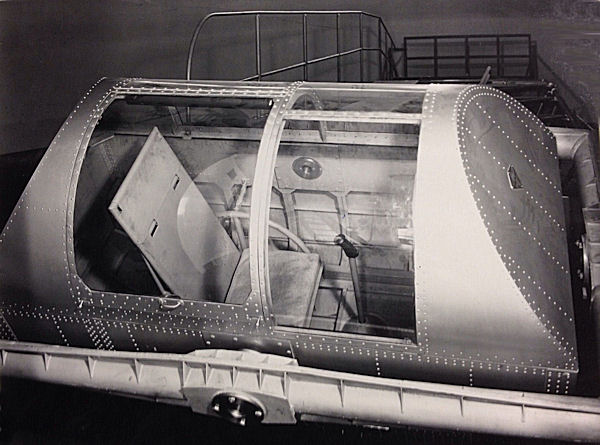 Nr 2 Centrifuge, Institute of Biomedical Problems
IBMP stands for Russian Federation State Research Center Institute of Biomedical Problems and is located not far from the Dynamo Stadium. IBMP was founded in 1963 as the Soviet leading institute in space biology and medicine, so it is natural that they had a modern centrifuge. A picture that is available on-line (below) shows Valentina Tereshkova stepping into the #2 centrifuge cabin before her flight.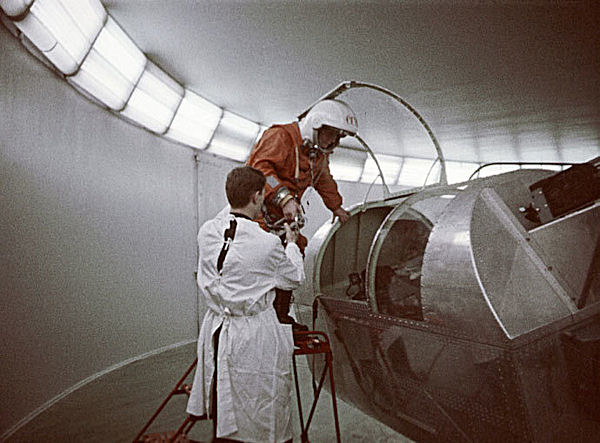 The picture below comes from a video clip available on-line and clearly shows the #2 centrifuge and how very similar it is to the #1 centrifuge. The lighting fixtures near ceiling shows that the two pictures were taken at the same location - the IBMP.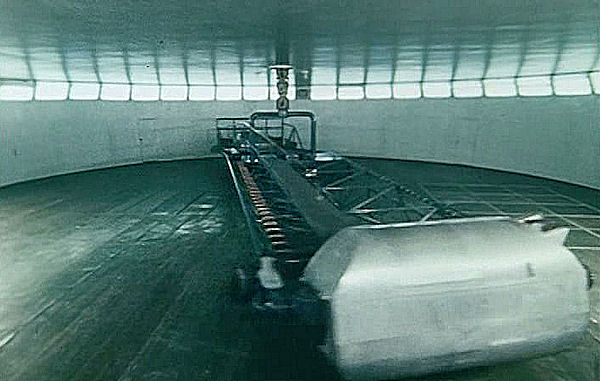 Nr 3 Centrifuge, Gromov Flight Research Center
M. M. Gromov Flight Research Institute is an important Russian aircraft test base, scientific research center located in Zhukovsky, 40 km south-east of Moscow. It has one of the longest runways in Europe at 5,403 m. So far I have found very little about this centrifuge except the contract date, where it was installed and the length of arm. In the Västmanland County Museum there are just a few pictures of this centrifuge. The picture below shows the rotor arm and the installed cabin during assembly at the Västerås factory. The picture was taken in April 1968. The size of the centrifuge can be seen by comparing with the size of the worker standing on top of the arm.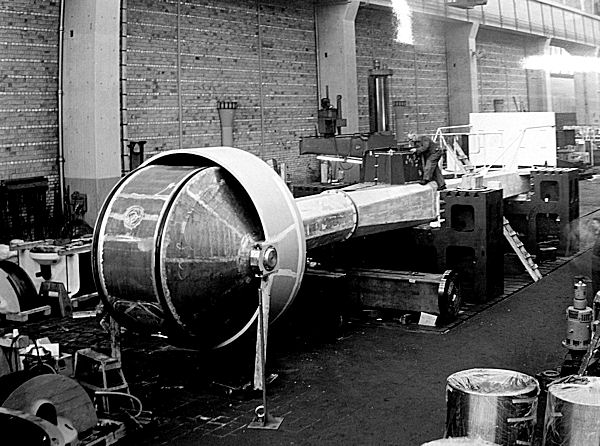 The picture below was taken in March 1968 and shows the cabin for the test subject.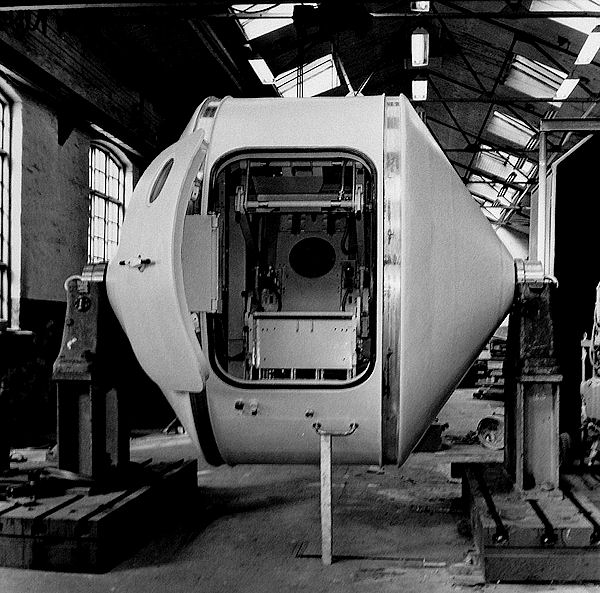 Nr 4 Centrifuge, TsPK, Gagarin Cosmonaut Training Center
TsPK stands for Tsentr Podgotovki Kosmonavtov but is more commonly known as Gagarin Cosmonaut Training Center (GCTC) is a Russian training facility responsible for training cosmonauts for their space missions. It is located in Star City, Russia—a name which may refer to the facility itself and to the grounds on which it is located. It was founded in February 1960 and houses the #4 centrifuge which was turned over to TsPK by ASEA in September 1979.
I took the picture below of the 18-m centrifuge at TsPK on 27 May 2008 when I visited together with fellow space enthusiast Robert Christy.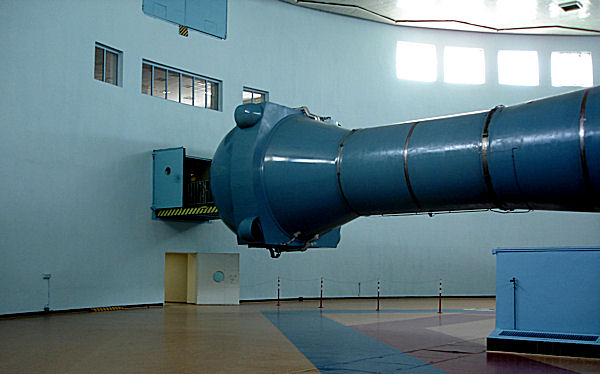 The picture below shows the assembly of the centrifuge at ASEA in Västerås.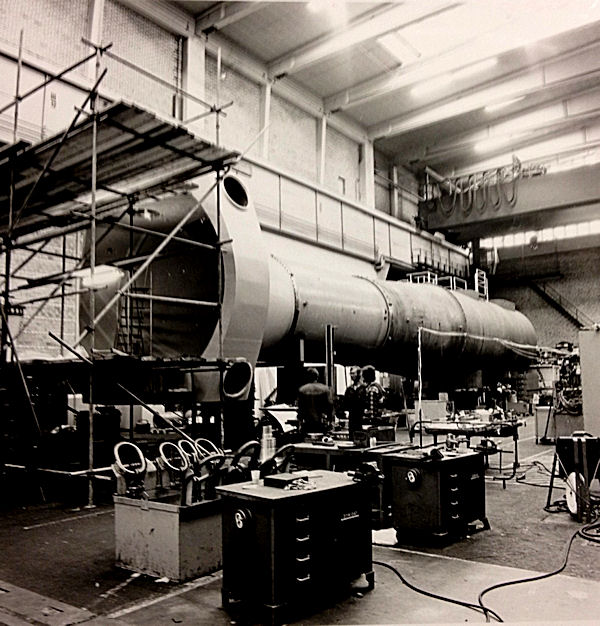 ASEA built scale models of the centrifuge to show the Soviet customer. This early model looks almost like a kitchen faucet!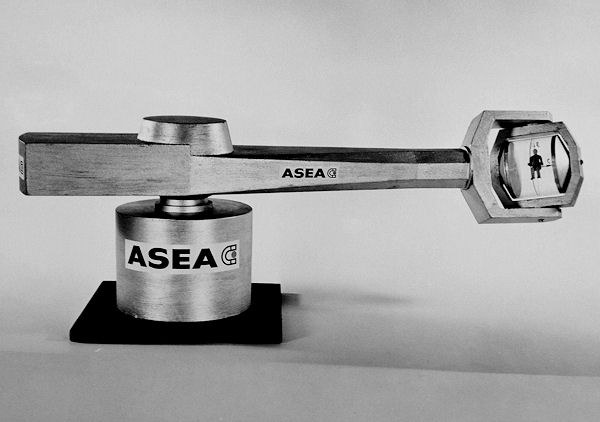 Another centrifuge used for cosmonaut training
The picture below comes from a screen grab from a YouTube version of a Soviet era movie about cosmonaut training and shows Yuri Gagarin in the Vostok ejection seat being spun around.
This clearly is not any of the centrifuges described above, but a different one. In fact it is a centrifuge located at NPP Zvezda, the manufacturer of life-support systems for high-altitude flight and human spaceflight. Its products include space suits, ejector seats, aircraft escape slides, lifejackets and fire extinguishers. It is based in Tomilino, near Moscow. Below is a very good close-up of the Vostok ejection seat mounted on this centrifuge (found on-line). Clearly, the ejection seat was a product of Zvezda's and they naturally wanted to test it in their own facility. On-line pictures show that it is still in use.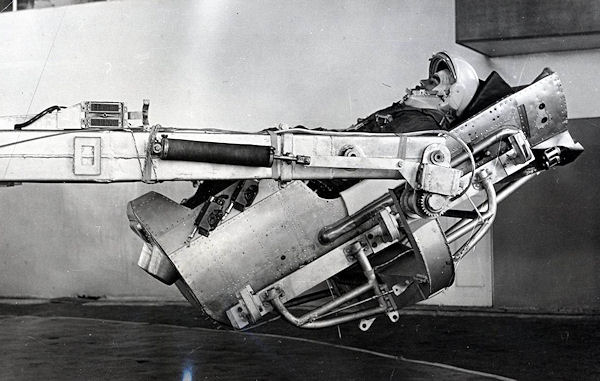 Acknowledgements
Mr Ivan Klaesson, chief archivist at Västmanland County Museum, Västerås, for his most helpful assistance in finding centrifuge pictures.

Mr Åke Ingemar Skoog, an expert on space suits, has made a crucial contribution to this web page by helping me sort out which centrifuges were installed where.


Back to Space History Notes