Yuri P Semenov and Vladimir Shatalov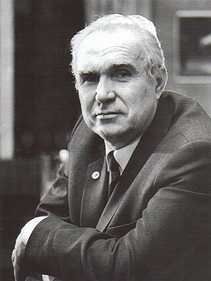 On 8 October 1985, in connection with the International Astronautical Congress in Stockholm, Yuri P Semenov and Cosmonaut Vladimir Shatalov visited my employer, the Swedish Space Corporation, and I had the opportunity to attend both a lunch for them and a subsequent meeting.
At that time Semenov was not a well known figure, and I certainly took notice when he introduced himself as the "Technical Director for the Soyuz-Salyut-Progress Complex". (He became the head of RKK Energia in 1989). Vladimir Shatalov was naturally a well-known cosmonauts since his flights on Soyuz-4, -8, and -10.
During the course of the meeting Mr Semenov (photo on the right: RKK Energia) revealed that Kosmos-1686 lacked a re-entry vehicle. I also described to Semenov and Shatalov that I tracked Soviet satellites including Salyut and the latest Kosmos-1686. I showed Semenov the frequencies (192 MHz and 142.417 MHz) and Shatalov asked in Russian "What does he receive", to which Semenov replied "Telemetri y sviaz" (Telemetry and voice),
Then Semenov said:
"Did you hear Salyut this spring? We could not hear it, maybe you could have helped!"
To which I replied:
"No, I had my last signals on 3 February."
Semenov said:
"So you had the same problem as we did"... of course referring to the power problems with Salyut-7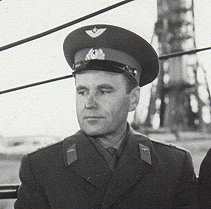 Later I played a recording of Savitskaya's voice and Shatalov (see picture on the right) and Semenov listened very attentively, then Semenov jokingly said:
"Next time we fly over Sweden, we will keep quiet!"
I said:
"Well if you do, Moscow will not hear Salyut either - Sweden is so close to the Soviet Union"
Shatalov laughed and said
"We shall continue to broadcast like that, it shows that we have nothing to hide and it also gives you an excellent impression of what life in space is like"
I asked:
So, I hope you do not mind my listening"
To which Shatalov said: So, this is the story of how I met these luminaries in the history of space - a long time ago.