Tracking Skylab
Sven Grahn
---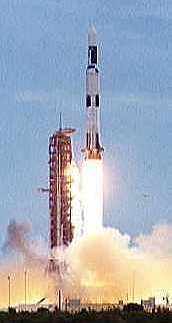 Contents


This article contains nothing sensational, but may be of some interest when comparing the communications systems of the International Space Station with that of one of its precursors, the Skylab space station. The Skylab communications system was rooted in the technology of the 1960's. The Orbital Workshop, also called Skylab 1, had an extensive set of P-band VHF transmitters for telemetry. Teletype uplink communications were also provided on VHF. When astronauts were occupying the workshop the docked Command & Service Module (CSM) provided voice communications through unified S-band.
Frequencies used
The table below (2) shows the Orbital Workshop transmitters on VHF, all of which used PCM telemetry bit stream that frequency modulated the carrier.

Freq.
(MHz)

Power
(W)

Antenna
type

Antenna
location

Data rate
(kbps)

Use

Continuous

Picked up by
Kettering Group?

230.4

2

Whip

Airlock

51.2

Launch phase

No

Yes

230.4

10

Discone

Extended from Airlock

51.2

Orbital TM2

Yes

Yes

231.9

10

ATM1 solar array

72

ATM TM3

Yes4

Yes

235.0

10

Discone

Extended from Airlock

112-126.72

Orbital TM2

No

Yes

237.0

10

ATM1 solar array

72

ATM TM

Yes4

Yes

246.3

10

Discone

Extended from Airlock

112-126.72

Orbital TM2

No

No

1 ATM= Apollo Telescope Mount
2 Also recorded data and delayed emergency voice
3 Also recorded data
4 Alternating with the other ATM telemetry frequency (231.9 or 237.0 MHz)
A ground command teleprinter link was provided on 450.0 MHz. An FM receiver was located in the airlock module and it received 200 bps commands or 20 teletype characters per second. ATM commands were also received on this frequency.
The primary voice communication link between Skylab and the ground took place through the CSM at S-band, which is 2287.5 MHz for phase modulation (PM) and 2272.5 MHz for frequency modulation (FM). The PM signal contained voice on a 1.25 MHz subcarrier, telemetry on a 1.024 MHz subcarrier and pseudorandom noise ranging on baseband. In an emergency voice could be transmitted on baseband. The FM link was used primarily for TV or recorded voice and data playback. The voice was on baseband and the telemetry on a 1.024 MHz subcarrier. The power output to the antenna on the CSM was 12.3 W maximum.
VHF voice and ranging was used by the CSM until the crew had enterd the Orbital Workshop and activated it. During launch a duplex link with AM voice transmit on 259.7 MHz (at 2 W RF power) and receive on 296.8 MHz was used until Madrid had lost the signal. Consequently, Dick Flagg in Gainesville, Florida, received good voice on 259.7 MHz during the launch phase of Skylab-3. After the launch phase the VHF voice system was reconfigured to become simplex on 296.8 MHz. About four hours into the CSM mission the system would again go to the duplex mode, but this time with ranging to the Orbital Workshop. The ground would inhibit uplink transmissions on VHF when ranging was performed.
Skylab tracking stations were located at the Cape, Bermuda, Madrid, Canary Islands, Carnarvon, Honeysuckle Creek, Guam, Hawaii, Vandenberg, Texas. Exactly which stations supported VHF is unclear.

Tracking the Orbital Workshop 23 minutes after launch
The two-stage Saturn-5 carrying the Skylab space station was launched from the Kennedy Space Center at 1730 UT on 14 May 1973. During the ascent to orbit one of the aolar arrays was torn off and this accident resulted in a heroic and successful effort to save the space station. However, I was totally unaware of this as I sat at my radios in my apartment outside Stockholm waiting for signals to appear.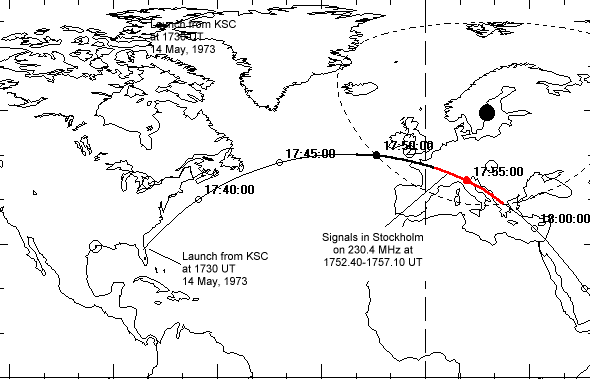 The Orbital Workshop separated from the S-II stage of the Saturn V at 1739.50 UT, at an altitude of 442 km, 1818 km downrange from the Cape (1). About thirteen minutes later the spacecraft had crossed the Atlantic and came within view of Stockholm. I picked up the signal on 230.4 MHz from the spacecraft at 1752.40-1757.10 UT (See map above). The signal can best be described a s a "chugging" sound. There were two peaks in spectrum 177 kHz apart.
In the early phases of the mission mostly only the 230.4 MHz was heard. On 19 May 1973 I also picked up a carrier on 231.9 MHz and telemetry on 235.0 MHz. My receiving system at that time covered neither 237.0 MHz nor 246.3 MHz. I spot-checked during the summer of 1973 and found only carrier being transmitted on 231.9 MHz except on June 20, 1973 when a 2 minute telemetry burst was transmitted on 230.4 MHz while passing the Madrid station. It took until 16 November 1973, the launch day of Skylab-4, for me to pick up telemetry on 231.9 MHz.

A view of the VHF telemetry spectrum
The spectrogram shown below was received in Kettering by the Kettering Grammar School on 26 May 1973 at 1049.40-1058.40 UT using an AIL 707 spectrum analyzer using a four-element Yagi antenna. Here one can see four of the five VHF frequencies used. Also clearly visible are the two spectrum peaks 177 kHz apart on the 230.4 Mhz signal. The 235.0 MHz signal appears to have the same charcteristics.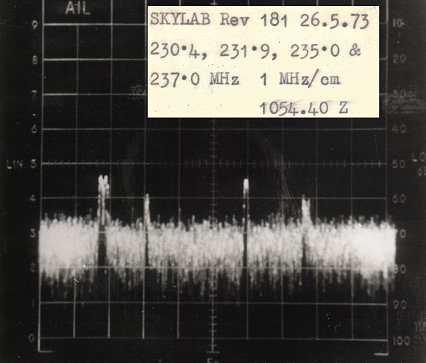 Image provided by G.E. Perry
Final signals from Skylab
As the physical life of Skylab drew to a close in 1979, I checked in again to see if there were any transmitters active. On 22 June 1978 - 5 years after first picking up the Orbital Workshop, I tuned around the frequencies used by Skylab and found strong telemetry on 237.0 MHz (I now had a radio that covered this frequency. This recording is from 1 May 1979). No other signals were present from Skylab. I logged my last signals ever from the Skylab Orbital Workshop on 237.0 MHz at 2005 UT on 15 June 1979. The space station re-entered the Earth's atmosphere on 11 July 1979!


References