Soyuz emergency landing zones - the "Ugol Pasadki" story
Sven Grahn
---
Contents
First inkling - Soyuz-33
The Kettering Group - the group of space observers led by the late Geoff Perry to which I have belonged since 1966 - first stumbled across the fact that there were emergency landings points for Soyuz flights in connection with the flight of Soyuz-33 This spacecraft carried Nikolai Rukavishnikov and Bulgarian Georgi Ivanov (this crew had the call-sign SATURN (hear it!)) and failed to dock with Salyut-6. It took us a long time to figure out this mystery in detail and we did not publish our findings (1, 2) until twelve years later! Here is how the story goes:

It started with a note in a tracking report for Soyuz-33 that I distributed to the Kettering Group:
April 11, 1979: " ...... On the following pass nothing was heard from PROTON, but scattered comments could be heard from SATURN for 8.5 minutes from 2210.50 until 2219.15 UT. Geoff [Perry] phoned before the end of the pass and I could only tell him that it did not seem as if the docking had been done, but they were still talking. Geoff said goodnight from his telephone booth in Bude and I finished the pass, rewound the tape and listened. No doubt, the SATURN crew could be heard saying (click here to listen): "..Vitok 29, ugol pasadki...., vitok 30...etc". UGOL PASADKI = Landing angle!!!. This gave it all away, at a time when they should be rejoicing over the successful docking the SATURN crew was reading back landing instructions for revs 28,29,20 etc..! ........"
On 11 April 1979, between 0101 and 0105 UT, during rev 5 of Soyuz 33, Mark Severance, then living in Fort Worth, recorded a similar transmission from the cosmonauts.

Here is what Mark wrote in letter dated 11 May 1979:
"... Good voice was also received on [rev] 5 with Ivanov reading a bunch of numbers about someting, I thought the turning off of systems (vikluchil), and mentioning some sort of angle (ugol),...."
A little further into the letter Mark wrote:
".... I read Sven's report [my tracking report for Soyuz-33 cited above] and was very interested in the crew's (SATURN) reading of landing angles for revs 28, 29, 30 etc. .... I started going over my tapes again and discovered that Ivanov's Bulgarian accent (hear him read the numbers!)had led me astray on my interpretation of my rev 5 reception. What he was saying in fact was Dvigatel = ENGINE giving some numbers, possibly times and Ugol Pasadki = Landing angles for revs 8 through 17 (or 7 through 16). With Sven's tapes in mind I thought they might have been planning emergency entries at that time bu the landing points for the given Moscow times didn't pan out - one time they were targeted for Indianapolis, Indiana! These items must have another meaning but I don't know what it might be!....."
Mark's interpretation was absolutely correct! And it seems that he understood what the "landing angle" meant - the angular distance from the retrofire point to the landing point. Indiana -yes he was so right! Closer analysis of Mark's recording shows that the crew reported a "form" [23] of numbers giving the "vitok" (orbit number), a time (Standard Moscow Time), and "Ugol Pasadki" (landing angle) ranging from 120 to 128 (See table below).

A question to veteran cosmonaut Vladimir Shatalov
However, we were never quite sure what "Ugol Pasadki" meant, so when I told Geoff Perry that veteran cosmonaut Vladimir Shatalov would visit my employer, the Swedish Space Corporation, on 8 October 1985 (in connection with the IAF Congress in Stockholm), Geoff told me: "Ask him about 'Ugol Pasadki'." I must say I never expected an answer when I told him I had heard this term in air-to-ground voice, but the jovial cosmonaut carefully explained that that "Ugol Pasadki" could be considered as the "argument of retro-fire" - the angle subtended at the Earth's center by the arc of the orbit between retro-fire and the landing point. This is how he put it after having thought about it for thirty seconds:
"Each night before the crew goes to bed we send them an orbit number and an angle which tells them where to fire the retro-engine in order to reach the designated landing spot. It is the angle measured along the orbit, subtended at the Earth's centre".
More "Ugol Pasadkis" from Mir....
On 27 May 1988, John Biro, in Chelmsford, Massachussetts, USA, sent Max White a transcript of a series of numbers transnmitted by Mir by RTTY on the previous day. They were immediately recognized a being of the same format as those which Mark Severance had logged in 1979, with the third column ranging from 120 to 128. On request, Biro reviewed earlier tapes and located a similar transmission on 25 January 1988.
....... and from ASTP
When Geoff Perry described Biro's intercepts I recalled that similar data was to be found in the transcripts of ASTP (Apollo-Soyuz Test project) air-to-ground voice that I had in my possession. One example of such a data set is shown in the table below. The data comes from "Form 14" and the "impulse" is 071 (presumably m/s) everywhere and the engine burn is 157 (presumably seconds) everywhere. The reason for the difference in "Ugol Pasadki" for the two mission can probably be related to the fact that the two spacecraft flew at different altitude at the time when the landing angles were read.

SOYUZ-33

Rev
NBECT
NBECL
Time of
retrofire
"Ugol
Pasadki"
Landing
Point
Nr
UT
Deg (W)
UT
Deg
Lat

Long

8

0519.2

169.8

0506.30

128

49.4 N

107.3 W

9

0649.3

192.7

0641.12

128

51.8 N

102.1 W

10

0819.3

215.6

0816.07

127

46.5 N

98.7 W

11

0949.3

238.5

0953.03

123

33.0 N

97.6 W

12

1119.5

260.9

1102.16

125

40.4 N

137.5 E

13

1249.5

283.8

1237.98

127

50.8 N

146.0 E

14

1419.5

306.7

1410.75

128

51.7 N

141.3 E

15

1549.6

329.6

1544.85

127

48.6 N

140.2 E

16

1719.6

352.5

1707.15

127

49.9 N

71.9 E

17

1849.6

15.4

1840.63

128

51.8 N

71.3 E

The table above comes from Mark Severance's intercept of voice from Soyuz-33 on 121.75 MHz in April 1979.

The table on the right comes from the air-to-ground transcripts from the Apollo-Soyuz Test Project published ny NASA.

NBECT = North-Bound Equator Crossing Time
NBECL = North-Bound Equator Crossing Longitude

The red numbers are those that were contained in the "Forms" read by the cosmonauts.

SOYUZ-19

Rev
NBECT
NBECL
Time of
retrofire
"Ugol
Pasadki"
Landing
Point
Nr
UT
Deg (W)
UT
Deg
Lat

Long

15

1017.8

324.9

1019.87

94

50.1 N

138.9 E

16

1146.4

347.5

1141.55

90

48.0 N

68.6 E

17

1315.2

10.1

1313.32

92

51.67 N

67.4 E

21

1910.9

100.6

1910.85

102

50.4 N

1.8 E

22

2039.9

123.2

2026.63

100

34.7 N

93.2 W

23

2208.8

145.8

2159.47

101

44.6 N

98.9 W

24

2337.7

168.5

2332.52

102

51.0 N

98.0 W

25

0106.6

191.1

0104.00

102

51.8 N

104.4 W

26

0235.5

213.5

0237.35

102

48.0 N

101.1 W

27

0404.4

236.4

0412.21

101

35.4 N

98.7 W

28

0533.4

259.0

0521.67

100

38.7 N

136.7 E

30

0831.2

304.2

0827.63

102

51.8 N

136.4 E

31

1000.1

326.9

1000.25

102

50.1 N

136.5 E

32

1129.0

349.5

1121.63

101

48.1 N

67.3 E

33

1257.9

12.1

1253.86

102

51.6 N

65.6 E

34

1426.8

34.7

1426.40

102

50.7 N

65.5 E

35

1555.7

57.4

1553.85

102

51.6 N

34.0 E

36

1724.6

80.0

1725.97

101

49.0 N

29.0 E

37

1853.4

102.6

1853.77

102

49.9 N

2.1 E
The use of "Ugol Pasadki" in the Soyuz Space Navigation Display
An explanation of the meaning of "Ugol Pasadki" can be found in the sketch of the space navigation display of early Soyuz craft reproduced below. The position of the spacecraft is normally shown by the rotating globe on the left side of the display. However, the display can operate in a mode where it shows the landing point if, at that particular instant" the retro rocket is ignited. To obtain the landing point from the orbital position the landing angle "Ugol Pasadki" is entered in the window in the lower right corner of the display by rotating the adjacent knob. When the "Display Mode" knob is moved over to the landing site position the globe shows the landing site.


Three main landing zones
When plotting the data from the two tables above on a world map a really interesting pattern emerges. There are three emergency landing zones that are common for both flights (and for the 1988 Mir data as well); The Sea of Okhotsk, Kazakhstan near Baikonur, and the prairies of North America. The North American prairies and the steppes of Kazakhstan are similar in terrain type. The use of the Sea of Okhotsk is somewhat surprising. One could have imagined that landing in the Siberian taiga could have been an alternative, but obviously ease of access to the crew after landing is most important.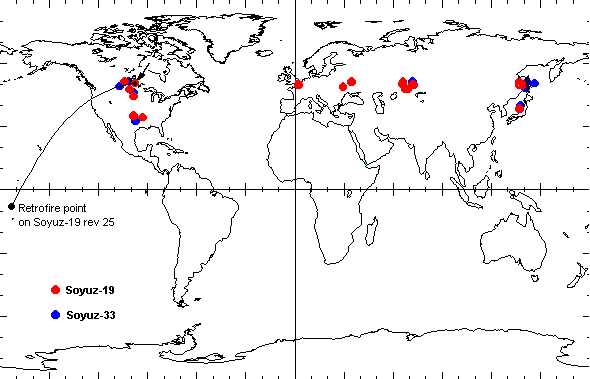 .... including the North American Prairies
If we examine the North American recovery points in the map below we see that there are landing oints in Manitoba, Saskatchewan, North Dakota, Texas and, Oklahoma. The Texas landing point for Soyuz-33 at 33N, 97.6 W is actually quite close to Fort Worth (32.75 N, 97.32 W )where Mark Severance recorded the landing angle data!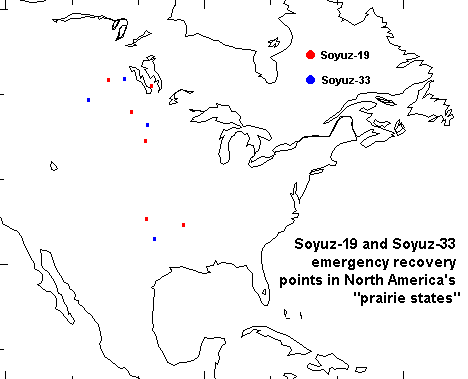 Secondary (?) sites in France and the Ukraine
The "Western Europe" recovery points are not less interesting. Two of the Soyuz-19 reovery points are in the region called "Plaine des Flandres" on my map or "Picardi"! The two recovery points for revs 35 and 36 are both in the Ukraine, north of Poltava and near Kiev!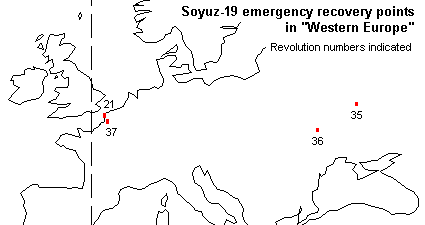 As pointed out in (2) there is an agreement initiated by the United Nations (3) which requires that "If, owing to accident, distress, emergency or unintended landing, the personnel of a spacecraft land in territory under the jurisdiction of a Contracting Party or have been found in the high seas or in any other place not under the jurisdiction of any State, they shall be safely and promptly returned to representatives of the launching authority."

Instructions in English on the bottom of the capsule
It is clear that the possibility of a landing outside the Soviet Union/Russia was taken into account in the planing of Soyuz/Salyut/Mir flights. The pictures below taken of the bottom of the Soyuz re-entry vehicle with plenty of English instructions for helping the crew out of the capsule show that a landing outside Russian speaking regions were foreseen as a distinct possibility.



Is this a warning to stay away from the area of radiation from the gamma-ray
sources that are used as "transmitters" for the backscatter "altimeter" that
triggers the soft-landing retro-rockets?


Take the key to open the capsule hatch!


Open the hatch!


Help [the crew] to go out!
The Future
It would be instructive to know if these emergency landing sites are still in use for Mir and if they are considered for the International Space Station where the Soyuz is initially intended to fill the function of emergency crew return vehicle.


References
"Soviet Cosmonauts Plan Daily For U.S. Emergency Landings", Aviation Week & Space Technology, 22 July 1991
Perry, Geoff, "A Kettering Miscellany", The Proceedings of the Sixth AMSAT-UK Colloquium, 25-28 July, 1991

Back to Space Tracking Notes